Is coloured vinyl making a comeback?
If you haven't been following trends on the vinyl front, you would probably not have noticed that coloured vinyl has seen a huge resurgence over the past year or so.
Coloured vinyl isn't a new development by any stretch of the imagination, but it has become a very popular one. Some of the examples are literally mind-blowingly cool and are really striking from a visual perspective, often matching cover art, or predominant colours evident in and on the record designs themselves.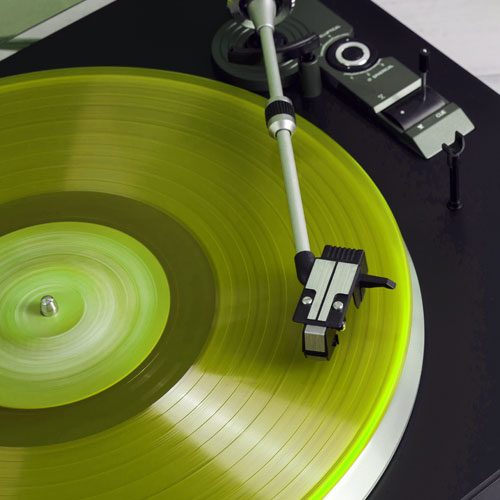 Technically there shouldn't be any issues with coloured vinyl as regards inherent noise levels, and there are many companies that get it right. But there are quite a few vinyl aficionados that prefer standard black vinyl pressings, citing lower noise levels and generally quieter record surfaces.
But from a marketing perspective the coloured vinyl releases do have some serious followers, and obviously the uniqueness of splattered vinyl, multi-coloured vinyl, two colour split vinyl and numerous other equally wild and wonderful ideas. There are a few downright silly ideas that have been as noisy as anything for fairly obvious reasons – putting glitter into vinyl is a dazzling experience, but the noise is crazy. Similarly, using reject cut-offs and discarded vinyl trims and simply re-melting vinyl for recycling is also suspect.
Many years ago, box sets were generally the reserve and privilege of the well-heeled and this has not really changed. If anything, box sets have now become even more premium cost orientated. There are many reasons for this. Bands that have been together for many years and are still going are now releasing earlier classic albums after 20th, 30th or 40th anniversaries to celebrate and commemorate the original releases and usually includes material remastered from the original master tapes, extra material as well as before unheard outtakes, live versions, demos, and special performances, very often the box set would include multiple software formats.
In certain cases guitar picks, badges, concert tickets, signed stubs, flyers and posters, and other memorabilia would also add to the special nature of these sets, and for obvious reasons many will also be limited and possibly also signed numbered copies. It is also not uncommon for bands to re-release box sets containing their entire discography of a certain era, or their general output with a specific record label or time period, even possibly a particular style of music out of the ordinary.
This bodes well for the fans but the cost of some box sets really is prohibitive, and a considerable amount  of consideration must be given as to such purchases, especially if those records are already owned individually and the condition of such existing titles is decent with little or no wear and tear evident. However, we should also not forget that we are now in the truly unique position where vinyl now also has an entirely new audience (again!) and many listeners never had the opportunity of owning original releases first time round anyway. So the market is certainly there.
The trend that has definitely been growing disproportionately in comparison to normal standard releases has been that of 45 rpm releases. Many audiophile titles are released on 45 rpm and special pressings, with great care being given to the quality of the vinyl, with limited runs of vinyl taking care not to overuse the stampers, and often using at least 180g pressings (or preferably even heavier pressing, e.g. 200g) to ensure flatness and therefor less distortion and better audio fidelity. The main reason why 45 rpm has seen such a resurgence and growth has been primarily been due to the fact that with styli travelling at a higher rotational speed interference is limited (exposure time to aberrations, ticks and pops is shorter), and more explosive dynamics are ensured. The typical standard single long-playing record with two 12" sides would typically be spread over two 12" records on four sides. Groove spacing can also be managed better and there is no need for groove "bundling" or "squashing", ensuring cleaner and clearer sound reproduction.
Alas, the promise of HD Vinyl unfortunately still remains a pipe dream at this point in time. After numerous promises and failed launch dates we are still to see product launched physically and become a true and practical everyday reality. The claims for enhanced audio fidelity may eventually be real but many prospective adopters have just become a bit disillusioned and don't really care anymore – the promise of better audio may be real but in the meantime life goes on and people are thinking along the lines of "bring it our first then we may change our minds". Sadly, human nature very often craves instant gratification and the actual irony is that with truly top-flight turntable, arm and cartridge combinations the quality is already extremely good and much better than average. There are quite a few pundits that proclaim that HD Vinyl may not offer the huge difference it has thus far claimed to deliver and that it will also probably be much higher in cost.
There have been major observations that the cost of vinyl has become detrimental to its possible growth, which is a quite ironical considering the actual growth that is not showing signs of slowing down. If anything, vinyl's growth has been quite phenomenal and has seen a definite increase for successive years with impressive figures and percentages. By now virtually everybody knows that CD has seen a reasonable butt-kicking by vinyl, but somehow one cannot refrain from thinking what it would have been like if pricing had been a bit more affordable. It is also understandable that pricing would have increased because of the simple principles of supply and demand, but the reality might be that vinyl just became a lot more expensive because that is what is selling, and that is where the actual demand lies. Unfortunately it is also true that some of the reasons being given for vinyl's high cost are not true and that the generally high price of vinyl is based more on greed and not quality. Let's face it, with many re-issues not being afforded special attention, remastering or premium material and production, and digital masters being used (very often without even getting proper and specific vinyl mastering), prices should be lower overall.

Finally, although the standards for vinyl reproduction have been standardised and have remained so for close on sixty years, and the general functioning of cartridges and turntables hasn't changed in any dramatic fashion, development has continued and the state of the art for vinyl playback and general usage and implementation has still moved forward. There are so many new manufacturers that have entered the market and are delivering superb products, and many existing manufacturers have continued with research and development and are also supplying products that truly elevate the quality of performance and playback, making it a very rewarding and relaxing pastime for may people worldwide. The biggest advances have come for the average man with entry level products (or in fairness at least, at least slightly more expensive products than entry level) which are more than capable at delivering the full joy and scope of emotion that the humble vinyl record can offer. With many naysayers not giving vinyl too much of a chance into the distant future one could argue that vinyl may still deliver bright moments ahead, but not for too long, but we are seeing a very different bigger picture. Realistically, even if the vinyl rollercoaster does fade away over the next few years, it is still a massively enjoyable ride and we are living and experiencing it now.