The AV7706 is made for home cinema enthusiasts who want everything, versatility, flexibility and musicality. The Pre-Amplifier exquisitely handles any kind of high-resolution stereo or multichannel audio format via the Marantz's own HDAM technology, before passing them to the high-quality 11.2 channel XLR or 11.2 RCA outputs and separate power amps.
Separates always have been something for the specialists. Back in times on stereo there was a pre-amplifier acting as hub for all the sources connected to it and to adjust the volume. The output of the pre-amplifier was sent to a dedicated power amplifier, just having the task to amply the small signal to a big one and delivering it to the connected speakers. The focus to just one task enables to get the best performance out of the pre-amplifier and the power amplifier.
The AV7706 is following the same principle. Featuring the same specs as SR7015 it doesn't do the final amplification, but outputs the processed low-level signal via professional XLR or Cinch to the connected power amplifier like the Marantz MM8077, MM7055 or MM7025, but third-party brands as well .
The separation makes it possible to reach the next level of signal purity needed for a semi-professional cinema experience. Something for the AV-Specialist.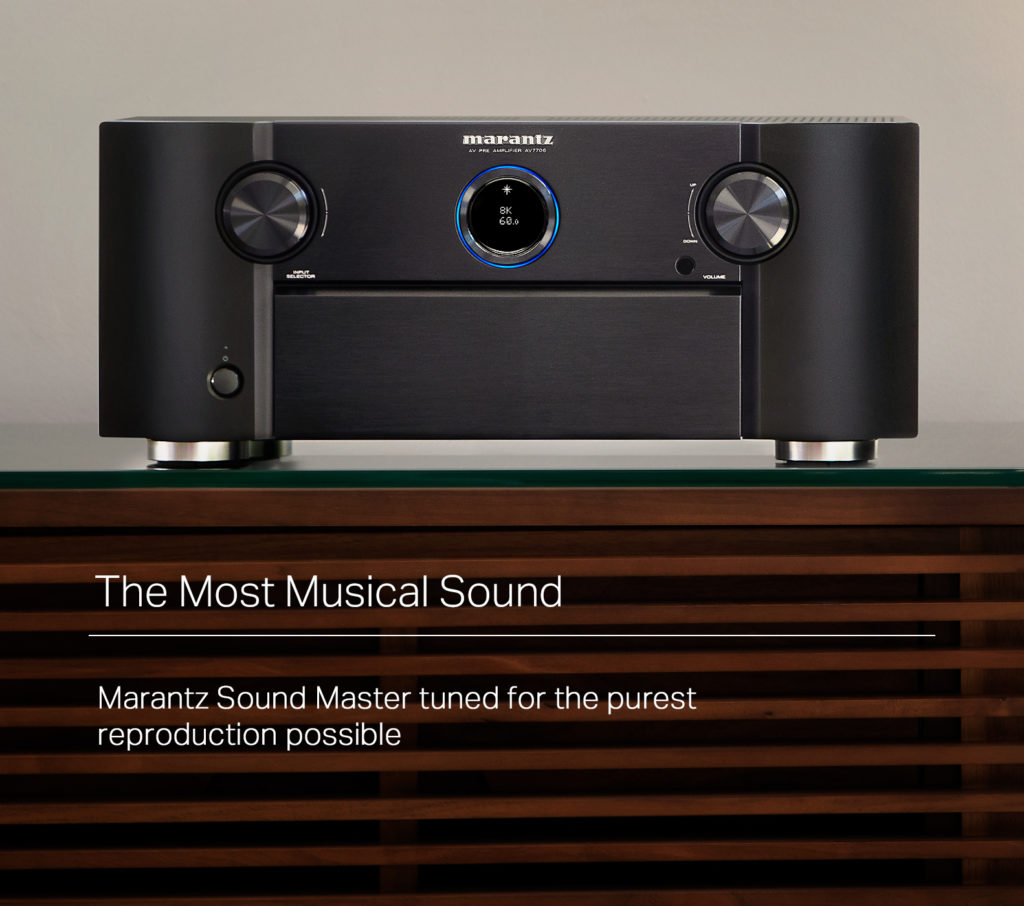 Product Features

Reference class 11.2ch AV-Processor with 8K Video
Dedicated pre-amplifier board with proprietary Marantz HDAM (Hyper Dynamic Amplifier Module) for best acoustical performance
Oversized power supply with audiophile grade ELNA capacitors for fast and clean audio reproduction
Extended shielding to reduce the risk of interference to a minimum
2x Griffin Lite DSP for 3D audio: Dolby Atmos, DTS:X, IMAX Enhanced and AURO 3D (V2) incl. Front Wide and Centre Height
11.2 channel pre-outs by XLR and RCA
HDMI2.1 supporting 8K/60Hz, 4K/120Hz, eARC, ALLM, HDR10+, VRR, QMS and QFT for best movie and gaming experience
Advanced room acoustic optimization by Audyssey MultEQ XT32, Dynamic Volume, Dynamic EQ, LFC, Sub EQ HT and professional tuning by optional Audyssey App for the most defined performance in any room incl. Dual Speaker Memory Preset
HEOS Built-in supporting high resolution audio, AirPlay 2, Bluetooth, BT HP and wide array of streaming services for instant access to music
HEOS Built-in supporting high resolution audio, AirPlay 2, Bluetooth, BT HP and wide array of streaming services for instant access to music
Metal front, Porthole display and Trap door with second display
Phono input to directly connect a turntable and enjoy beloved vinyls
Matching power amplifiers: MM8077 (7ch), MM7055 (5ch), MM7025 (2ch)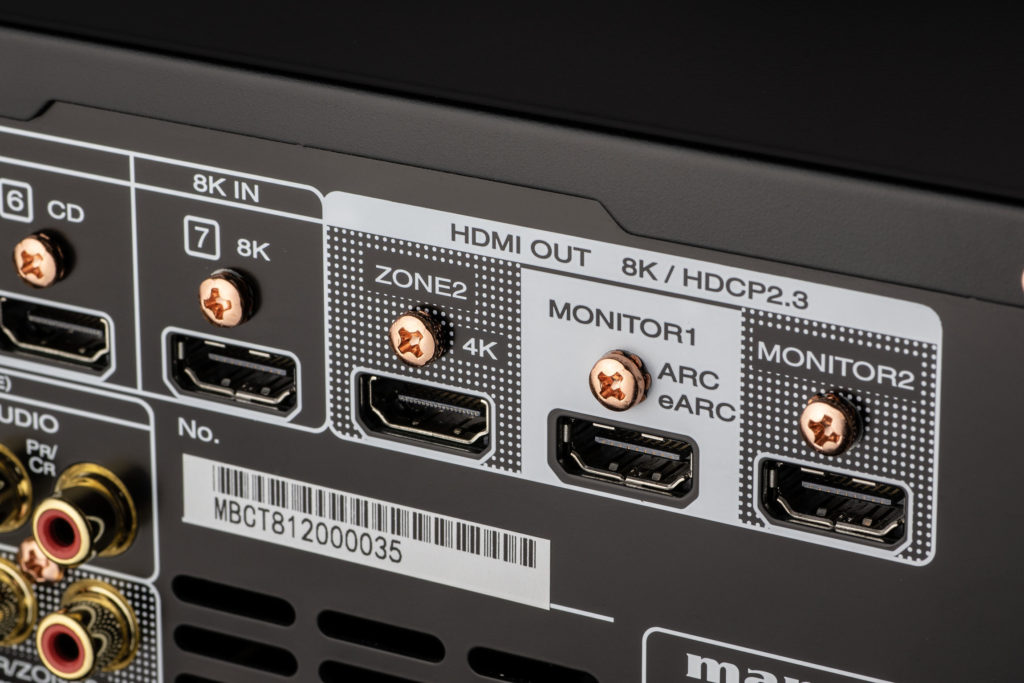 The AV7706 helps the consumer that is past the standard AVR solution and wants an 8K ready AV Preamplifier to pass-through the highest video quality with the Marantz quality sound backing their home theatres' performance.
Bring an existing cinema installation to the next level in video and audio experience. The latest video standards incl. 8K/60Hz and 4K/120Hz together with the latest version of Dolby Atmos, DTS:X and Auro 3D (V2) supporting 11 channels guarantees a new experience and will make the system ready for what the future is going to bring. That is Marantz quality theatre performance.